EMERGENCY ALERTS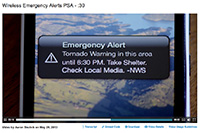 Visit the FEMA Library to download
WEA PSA (:30)
View
"WEA PSA (:30)" on Youtube
.
You can receive important lifesaving alerts no matter where you are - at home, at school, at work, or even on vacation.
Public safety officials use timely and reliable systems to alert you and your family in the event of natural or human-caused disasters. Please go to the Integrated Public Alert & Warning System website to learn more information about this national alerting system. Register below for notifications for residents of the Town of Cornwall and Village of Cornwall-on-Hudson.
During an emergency, alert and warning officials need to provide the public with life-saving information quickly. Wireless Emergency Alerts (WEAs), made available through the Integrated Public Alert and Warning System (IPAWS) infrastructure, are just one of the ways public safety officials can quickly and effectively alert and warn the public about serious emergencies.
We have used the Cornwall Central School District notification system during emergencies to alert the public to about critical information as their system is the most up to date to keep in touch with parents.
It would be best if you opt-in for alerts through all of these systems:
The Town of Cornwall, Orange County, and New York State utilizes NY Alert to notify the public about emergency information. NY-Alert Emergency Notification System
The Village of Cornwall-on-Hudson Water Department uses CodeRED which covers all in our community who have municipal water services. You may receive notification about a water service disruption and other notifications from the mayor's office, highway department or fire department also. To sign up for CodeRED visit Cornwall-on-Hudson CodeRED Notification System
Orange County has also implemented the CodeRED Emergency notification system. To sign up for the Orange County CodeRED system visit Orange County CodeRED Emergency Notification System
What you need to know about WEAs:
WEAs can be sent by state and local public safety officials, the National Weather Service, the National Center for Missing and Exploited Children, and the President of the United States
WEAs can be issued for three alert categories – imminent threat, AMBER, and presidential
WEAs look like text messages, but are designed to get your attention and alert you with a unique sound and vibration, both repeated twice
WEAs are no more than 90 characters, and will include the type and time of the alert, any action you should take, as well as the agency issuing the alert
WEAs are not affected by network congestion and will not disrupt texts, calls, or data sessions that are in progress
Mobile users are not charged for receiving WEAs and there is no need to subscribe
To ensure your device is WEA-capable, check with your service provider
The IPAWS Program Management Office (PMO) created five, short video clips designed to ensure the American people understand the functions of the public alert and warning system and how to access, use, and respond to information from public safety officials. To learn more about WEAs, take advantage of the educational videos, available at www.fema.gov/ipaws, as well as the products below.
For Kids: Wireless Emergency Alerts (WEA) and Word Search Puzzle
For Educators: Wireless Emergency Alerts Instructional Materials
Page Updated: 2017-11-17 09:15:35